Services and Repairs
Free Estimates
When a non-running movement is brought to the shop, an estimate based on a "visual inspection without dismantling" is free.
In-shop only
Estimates are given, if requested, before repairs are made
The estimate is not a guarantee of the cost of repair
CALL FIRST for details
7 Day/Week Drop Off or Pick Up
CALL FIRST for details
+1 603-429-3021
Clock Maintenance
Your clock's movement is a mechanical device that requires a service schedule to keep it running. A clock's parts are metal on metal. As time goes by, its oil starts to break down and dry out. The main determining factor in how many years a clock's parts last is how well you keep the oil that is lubricating the movement. By running a clock movement that isn't sufficiently lubricated you are cutting short the life of the movement. With the proper service a well-made clock movement should last many lifetimes passing down from generation to generation.
In general, I recommend a cleaning and oiling every five years
House Calls
Grandfather / Grandmother Clocks or any clock requested to be picked up at customer's home. All Grandmother and Grandfather Clocks must be serviced as a house call. I will...
Start with a home visit to assess the repairs needed to your clock
Collect your clock
Repair your clock
Return your clock and set it up correctly
This service is available within a 50-mile radius of Merrimack, NH
There is a fee for this service.
Payment
Cash or Checks only

I Do Not Take Credit Card Payment
APPRAISALS
I

do not

provide appraisals for "value" of clocks of any type.
I am not an appraiser of "value". Legally, only a "certified appraiser" may do so.
Why hire
Pinet Clock Repair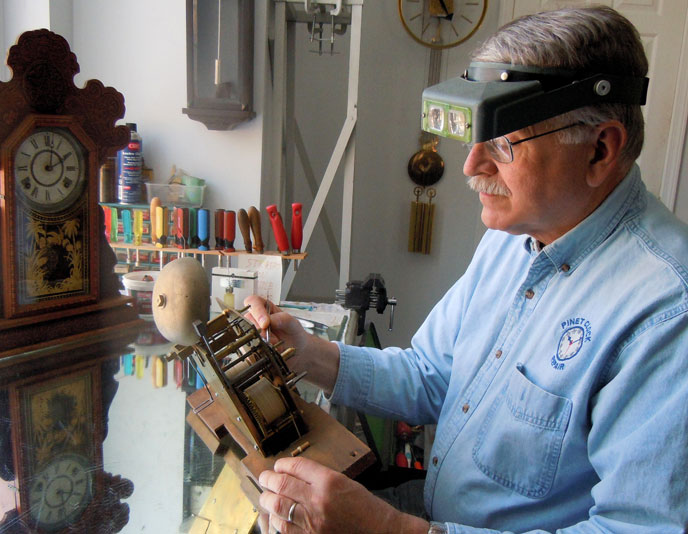 The range of clocks that I have worked on includes early 1800's longcase (grandfather clocks) to the modern quartz (Battery) clocks. The list includes electric clocks, ship bell clocks and antique mantle and wall clocks. If I have a specialty it would be grandfather clock's.
Services Overview
Restoring your heirloom clock
This 1930's E. Gilbert wood mantle clock passed down to two generations was found where it sat in a basement for 20 years. The movement was repaired, the glass replaced, and a good cleaning and oiling restored the case to a functioning clock.

Packing and moving your grandfather clock
This 1898 grandfather clock is now owned by a third generation. The customer was retiring to a new home and was concerned due to previous damage caused by a moving company. I removed the movement, serviced it at my shop, and returned and reinstalled it in its case. I then packed and moved the entire clock independently to its new home.

Restoring old clocks
This 1841- 30 hour wooden movement mantle clock was purchased at auction. Replacing "cracked teeth" and a complete cleaning and graphite lubrication restored this piece to a functional, museum quality clock.

Repairs may be simple
This 8 day oak "basket weave" E. Ingrahan cir. 1885 mantle clock was inherited by a customer in non-running condition.. A good cleaning and oiling without any major repairs was all that was needed to restore it to a functioning, quality clock.

Fixing mistakes
This German, Junghans early 1900's oak mantle clock has an unusual double gong strike, chiming every ¼ hour and striking the hour. A previous service person adjusted the chimes to sequence incorrectly. A long overdue cleaning and re-adjustment resulted in a pleased customer with a properly functioning clock.

Research
This face and movement on one of my test stands is from a long-case (grandfather clock). The unusual painted face is very clear and signed "D. Lumsden" and "Anstruther". The customer had it for over 40 years. She requested the clock be serviced and. if possible, could I find any history on the clock as she hoped to pass it on to her children. Despite its age, this was the first major repair needed on the clock's movement. An auction reference source identifies its maker as David Lumsden of Anstruther, Scotland 1827/1850.

Repairs inside and out
This 8 day Hunters Cuckoo Clock dated 1972 was dropped. The movement was cleaned, oiled and adjusted, antlers were replaced, and wooden parts reglued. Note: I am no longer doing cuckoo clock repair because of specializing but I can refer you to someone if needed, just ask.

Local history
This 36" non running clock was in the First Congregational Church in Merrimack, NH. The new pastor was told the clock has been in the church since the 1800's and was a gift to the church from a previous pastor. The movement was stamped Brewster & Ingraham which was formed in 1844 and dissolved in 1852. This clock only needed minor repairs and is now running smoothly in the Congregational Church.

Harsh environments
This Howard Miller 8 day cable driven German movement modern wall clock spent most of its 35 years near the ocean. The high salt content of the air had pitted the solid brass rings and movement. Rebuffing the brass and properly cleaning the movement brought it back to life.
Grandfather / Grandmother Clock Packing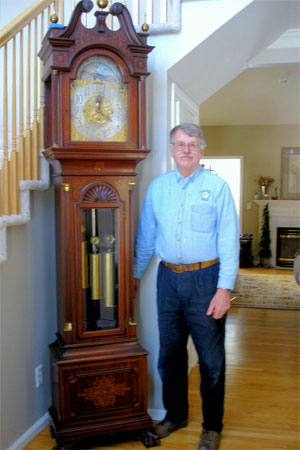 This service is offered to professional moving companies as well as to the individual customer.
I will come to your home or to the location of the clock (within a 50 mile radius of Merrimack, NH) that is going to be moved and prepare it to be transported
The weights and pendulum will be removed
The internal components will be secured to prevent damage by wrapping,
padding and taping as necessary
Tissue Paper is used to prevent scratching on brass surfaces like pendulums
The clock parts are packed in foam and taped into separate boxes
Each packing job is different
Boxing or crating is not part of the service that I offer. I will move your Grandfather Clock to a new address within a 50 mile radius of Merrimack, NH with my own trailer also.
Clock (Battery) Conversion
For the clock that cannot be repaired, or if a clock has sentimental value to the customer but cost more than is reasonable to the customer, battery conversion may be an alternative. Battery Conversion is a process whereby the original motor and mechanism are removed from the clock. A battery powered quartz movement (mechanism) is retrofitted into the clock's original case.
Reconditioned Clock Sales
This list is always changing. Current inventory includes
Grandfather Clocks
Several Wall and Mantle Clocks